I had marzipan for the first time this year from the Grand Central Market, after buying cheese for Cheese Club, in the form of Ritter Sport truffles. It had never come up before because I only knew the almond paste in its fake fruit form, which walks that retarded line. My boyfriend/ex-boyfriend Colby, who's spent a lot of time with foreigners, loves marzipan and consistently defended it. The truffles were good, but Colby also eats the fake fruit marzipan.
There is a legend that soon after being broken up with, I was once asked by a newly ex-boyfriend about what he should get for his new girlfriend. The story goes that my response, in an attempted to call his new girlfriend trashy, was that he should get her a taco made of marzipan, at which point I supposedly signed off AIM. I don't know if any of that's true. This is sort of what that would look like [it's a tostada]: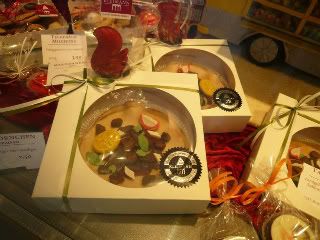 "Marzipan Taco" is also the name of a Monday morning comedy podcast show. According to their website, they once had a skit wherein they prank called a pharmacy to check on the status of their prescription for pills to cure their retardation, which definitely crosses that retarded line.
Right before I left New York, I contracted an aggressive cold for which I took a lot of Tylenol Sinus and then drank through the malady, putting me in a state of spirited derangement. On the way to my friend Jason's house under this spell, I sauntered into a classy deli and bought a blueberry B monster, cigarettes for everyone to share, and a box of fruit-shaped marzipan. According to Jason and his friends, seasoned marzipan buyers and eaters [maybe foreigners], the batch was stale. Unfortunately, I thought it was pretty good. Probably would've tasted better if I had gotten it from a chocolatier, and in turn had been crafted to the form of something unique, like tacos [or infants].